TrungThanh Group and sincere sentiment toward Central Vietnam
Recently, there have been many articles and pictures about the flood in Central Vietnam in last 2 months. The continuous and terrible floods have turned many central provinces like Nghe An, Ha Tinh, Quang Binh, Phu Yen,... to immense water fields, taken away warmth and peace of many families and caused incalculable heavy damage.
The flood is not only the anxiety of people in Central, the whole country have been heading toward there with warm and sincere sentiment. People are subscribing as much as they can. The traditional humanities of compassion is smoldering inside every Vietnamese, from innocent children to toothless old people. Things from Vietnamese hearts are just old clothing but so warm, old stain books or simply sharing letters from students all over the country...
Beside those spiritual presents, people in the Central have also been received material helps from many generous Vietnamese and companies inside and outside the country. In past 2 months, TrungThanh Group – the leading group in food, estate and media, has held charity trips to some communes in Ha Tinh and Quang Binh. The truck were bringing TrungThanh goods which carried along share and sympathy of nearly 500 workers in TrungThanh to children in Cam Vinh, Cam Xuyen, Ha Tinh; to people in Khanh Loc, Cam Loc, Ha Tinh; and some heavily damaged communes in Quang Binh. The total value of the goods was nearly 100,000,000 vnd.
Leading the TrungThanh charity team, Mr. Phi Van Thanh – Vice General Director, said "Witnessing the heavy damage of the flood in Central Vietnam, I am so sad and lamentable for hard life of people here. With our practical helps, TrungThanh do hope that they can overcome the difficulties and stabilize their life".
Some pictures from the trip
Mr. Phi Van Thanh (the 3rd from left) was leading the TrungThanh charity team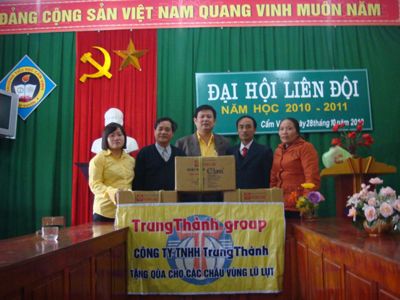 TrungThanh was donating goods for children in Cam Vinh, Cam Xuyen, Ha Tinh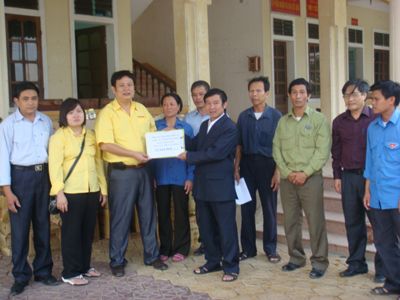 TrungThanh do hope that people in the Central can overcome the difficulties and stabilize their life
P.V