TrungThanh Community is honored to be praised as "skilled worker" at Capital Conference 2015
To celebrate the 125th birthday of President Ho Chi Minh, morning of 19th May 2015 , at the Great Hall of Labour Culture Palace Vietnam-Soviet Friendship , Confederation of Labor ( Labor Federation ) Hanoi solemnly organized the Conference praised the advanced models in CNVCLD period 2010 - 2015 and commended "capital skilled workers" in 2015.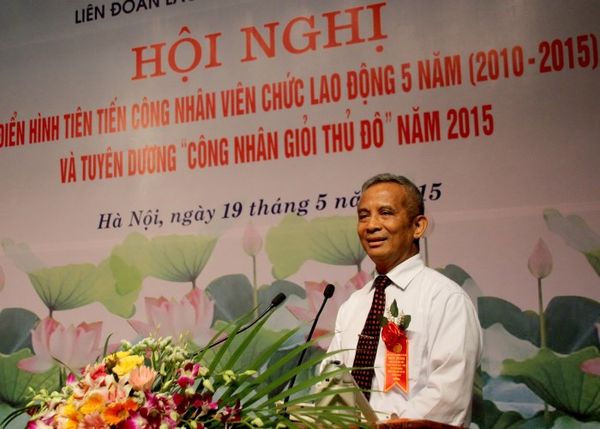 Dang Ngoc Tung - Member of the Party Central Committee , Chairman of General Confederation Vietnam Labour spoke opening session of Conference advanced typical demonstration in officials period 2010 - 2015 and commended " Workers skilled Capital" in 2015
Comrades Dang Ngoc Tung - Member of Central Party Committee, President of the Vietnam Labor Federation; Mr. Nguyen Ngoc Tuan - The commissioner, Vice Chairman of Hanoi People's Committee; Nguyen Dinh Duc - The commissioner, deputy chairman of the Fatherland Front Committee of Hanoi City; Comrade Nguyen Thi Tuyet - alternate member of the Party Central Committee, Chairman of the Hanoi Labor Federation attended.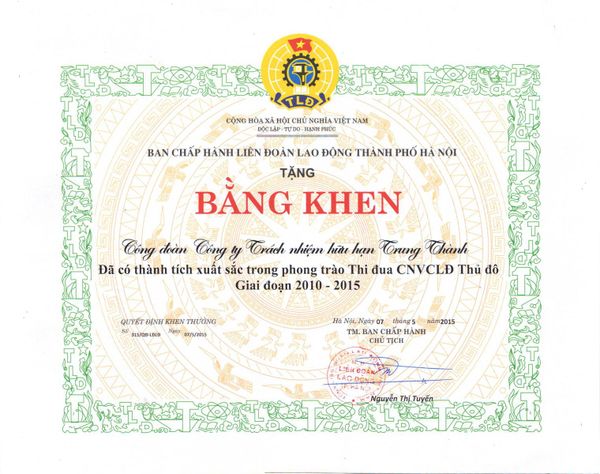 With the practical activities and achievements gained in the past five years (2010 - 2015), TrungThành Community is honor to be one of 171 typical advanced community honored in Congress praised the advanced models of labor officers.
Within the last five years, TrungThành Community has completed successfully all the competition movement "Good labor", "Creative labor", "Good job good housework" movement "Green - Clean - Nice, ensuring labor safety clean security"; movement "Building cultural life industry", ... always are considered seriously important and launched to achieve the objectives of the Hanoi Labor Community to "improve productivity, quality and efficiency, the lives of workers".

Vu Thuy Nga - Director of Ho Chi Minh City Branch and Chairman of TrungThành Labor Union (in middle) receives the merit of the Hanoi Labour Confederation
With a large force of enthusiastic and dynamic staffs, TrungThành Labor Union had always been identified as a key institution leading in front within all the activities, movements, ... To achieve above achievements, we really need to thank the interests and facilitate in many aspects from Labor Union of Hoang Mai district and TrungThành's Leaders.

This is the hallmark recognizes striven tirelessly collective of TrungThành's staffs and officers, and also is an inspiration, a great encouragement to the Executive Committee of TrungThành Labor Union.
Quỳnh Trang