TrungThành attend IFEX International Trade Fair in Philippines 2015
Philippines IFEX Trade Fair is one of the specialized international trade fairs for food which have the largest scale in Asia held every two years in the Philippines.
The trade fair of this year is the 10th trade fair which is held from May 21 to May 24, 2015 at the SMX Convention Center, Mall of Asia Complex, Manila. This is an operation in the framework of the activities of the APEC in Philippines; therefore, its scale is bigger than last year as well as there are many incentives for the participating countries.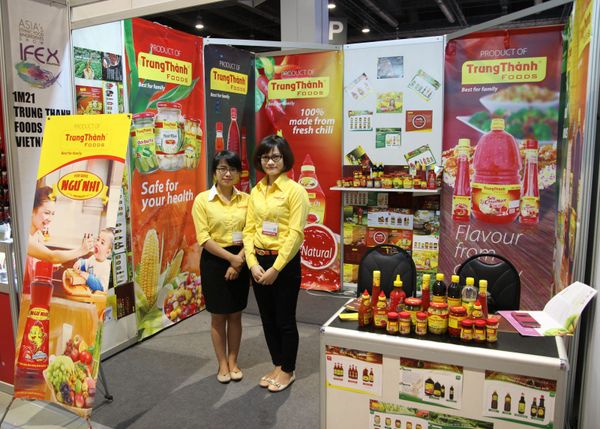 TrungThành's booth at IFEX 2015
As the one of leading companies major in food, TrungThành honored as the one of the representatives of Vietnam to attend. The items displayed at IFEX's are spice products, canned vegetable branded TrungThành Foods.
The booth showing TrungThành's products attract many international and local visitors. The leaderships of the Philippines visit and hear about TrungThành products at the booth.
The presence of TrungThành products at the trade fair this year has attracted the attention of the leaderships of Philippines and international visitors
Representative of TrungThành, Ms. Nguyen Hong Oanh - Supermarket Channel Director, Export Manager said that TrungThành has plan to enter the Philippine market, bring the spice products and canned vegetable into the shops and supermarkets of the Philippines in the near future. During trade fair, TrungThành has meetings with clients and potential partners, discuss the possibility of cooperation and distribution the goods in this market.
During the trade fair, TrungThành's representatives had the opportunity to meet potential customers opening up new directions in the Philippine market
It can be seen that participating the international trade fairs will be good opportunity to promote and introduce the potential exports of TrungThành in particular and Vietnam in general, to interact, negotiated directly with the partners of the Philippines as well as partners from the countries in the world.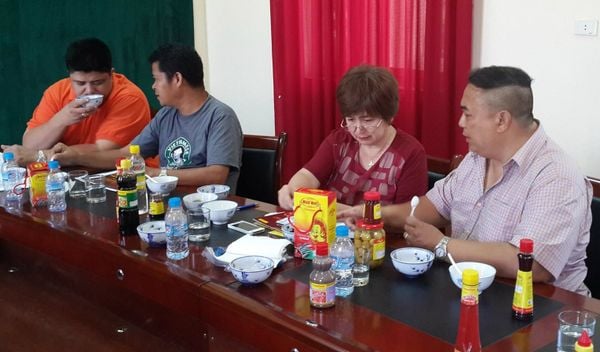 After Trade Fair, TrungThành honored to welcome a group of potential partners visiting directly, exploring and signing the contract at TrungThành office
Chairman – General Director of TrungThành, Mr. Phi Ngoc Chung (first row, first from the left) and TrungThành's representatives receive partners from Philippines at Dong Van foods stuff factory of TrungThành Foods
Quỳnh Trang