The launch of Iron Nutriuos Fish sauce – Ngu Ong
At the beginning of New Year 2010, on 3-Jan, 2010, the Launch of Iron Nutriuos Fish sauce – Ngu Ong was held at TrungThanh's Factory in Dong Van – Ha Nam.
Attending the Launch, there were Prof. Dr. Le Bach Mai - Deputy Director off National Institute of Nutrition, Dr. Hoang Thuy Tien - Deputy Director of Vietnam Food Administration, Mr Nguyen Lap Quyet - Director of Ha Nam Deparment of Heath, Mr Dang Dinh Thoang - Director, Centre of Ha Nam Preventive Heath, Mrs Nguyen Thi Dung - Heads of Sub-department of Ha Nam Food Administration, Mr Nguyen Cong Au - Chairman of County Hoang Mai Labor Union, along with deputies from other agencies, the television journalists and all staff of TrungThanh Company.

Product Iron Nutriuos Fish sauce is the result of cooperation between TrungThanh and National Institute of Nutrition in implementation of the Project "Iron Supplement" which has been approved by the Prime Ministercomplied with the National program "Prevention of nutritional anemia". Shortly before the Launch, the delegates visited the production line of the new product in Factory Dong Van.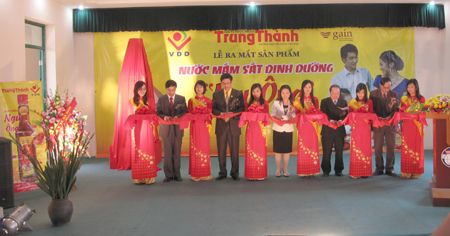 At the ceremony, after TrungThanh CEO - Mr. Phi Chung Ngoc announced the launch of the new product and appriciated the cooperation between the Institute of Nutrition and TrungThanh Company, the delegates took part in the Ribbon Cutting Inauguration of the new product.

In his speech at the ceremony, Prof., Dr. Le Bach Mai - Deputy Director National Institute of Nutrition emphasized the importance of iron supplementation on a daily regimen for the community, and this was a leading measure in the national program "Prevention of iron deficiency anemia." She also appreciated the efforts and contributions of TrungThanh in the research and production a sauce of iron nutrition.

At the ceremony, the deputies withnessed the appearance of the 500ml bottle model of Ngu Ong. Ngu Ong has an abundant iron content, participating in the process of creating blood and protein synthesis. Ngu Ong's taste not only help the food become more charming, but also improve iron deficiency in pregnant women and increase intelligence in young children. TrungThanh do hope that the new product will help augment community health.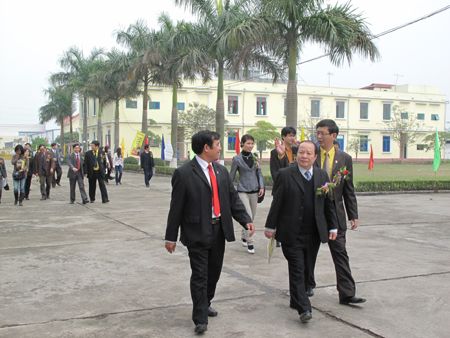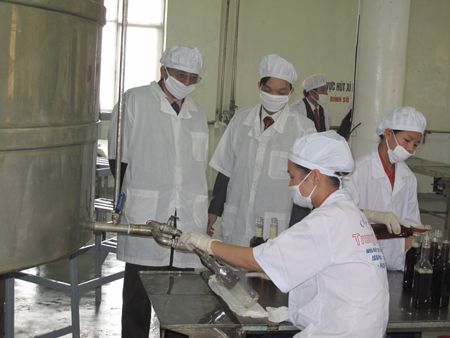 P.V