Fish sauce Ngu Ong honorably revieved A-Class Certificate in the Competition " Initiative & Creativity" of Hoang Mai District
On 27-Jul, 2010, Labor Union of Hoang Mai District held a ceremony for Award Winning Products in the Competition "Initiative & Creativity" which was mobilised in annyversary of the Vietnam Labor Union Establishment (28-Jul, 1930).
The goal of the Competition was to overcome difficulties, practice thrift and combat against wastage in production and trade; thus improve the development of enterprises and the whole country. Estimatedly, the Competition made a benefit of nearly 4 billions dong.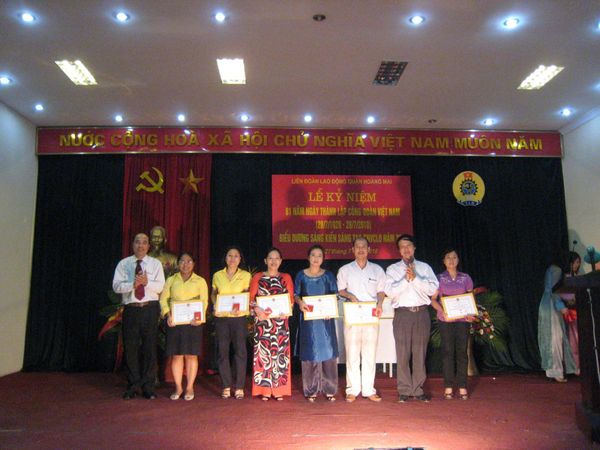 To response to the Competition, TrungThanh sent the product Ngu Ong Iron Nutriuos Fish sauce. Ngu Ong Iron Nutriuos Fish sauce has high levels of nutrients which provides an abundant iron content, participates in the process of creating blood and protein synthesis. Ngu Ong's taste not only help the food become more charming, but also improve iron deficiency in pregnant women and increase intelligence in young children. Ngu Ong is a cooperative product between the National Nutrition Institute - Department of Health and TrungThanh in the Program "Prevention of iron deficiency anemia".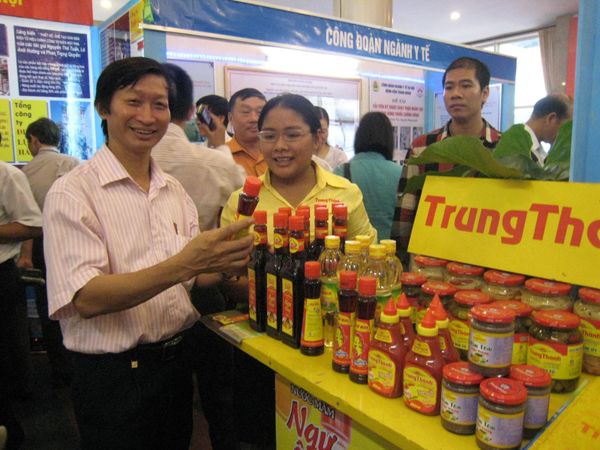 Fishing with Mr. Fish sauce products, TrungThanh honorably received A-Class Certificate, being chosen as the District Representative to exhibit in "Initiative & Creativity" of Hanoi City which took place in 02 days from 23 to 24 Jul, 2010 at the Hanoi Cultural Friendship Palace. Participating in the City Exhibition, there were more than 200 products from County and Departments located in Hanoi. Featuring a bright yellow color and prestige brands, Ngu Ong attract a large crowds of guests
P.V