Chairman- General Director Phi Ngoc Chung received the merit of Hanoi City
In the morning of July 7th, 2014, at the Culture Palace Vietnam-Soviet Friendship (Hanoi) took place Conference praised businesses and entrepreneurs typical Capital Conference 2014. This conference due to the people's committees and joint labor unions Hanoi held to honor those businesses and entrepreneurs typically. They have much to contribute to the development and enrichment of Hanoi city.
Attending the conference included Vice President – Mrs Nguyen Thi Doan, Deputy Minister of Industry and Trade – Mrs Ho Thi Kim Thoa, Chairman of Chamber of Commerce and Industry of Vietnam (VCCI) – Mr Vu Tien Loc; Ms Ngo Thi Doan Thanh ( Deputy Secretary of Hanoi Party Committee and Chairman of the Hanoi People's Council); Mr Nguyen Ngoc Tuan (Vice Chairman of Hanoi) and agencies, news agencies, newspapers in Hanoi, the leaders of the business district and typical.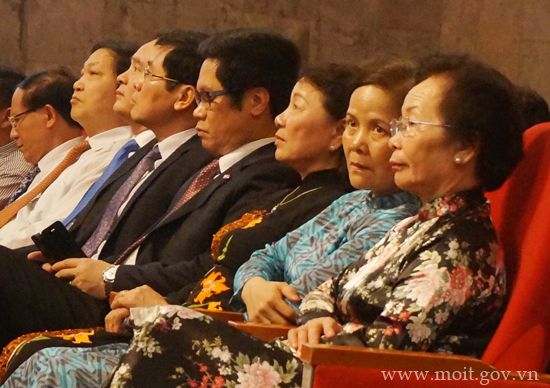 Vice President – Mrs Nguyen Thi Doan (the first from the right ) attending the conference
The 2013 and the first six months of 2014, the overall situation more difficult, challenging, but with determination, effort, striving at all branch and the business community, economic, socio city continues to grow. In the first six months of 2014, the economic capital was maintained a high growth rate rearch 7.4%. Budget revenues in the province reached 50% of yearly estimate, up 5.8% over the same period.
At the meeting, Chairman - General Director Mr Phi Ngoc Chung honored to receive the merit of the Chairman of People's Committee of Ha Noi City because he was achieved in the movement Business area at Hanoi locality in 2014.

In 2014, although the country's economy and businesses have difficulty in accessing markets and loans to expand production and business activities. TrungThành company also affected by the difficult economy. However, under the leadership of Chairman - General Director Phi Ngoc Chung, the company has overcome difficulties and achieve outstanding achievements in production and business activities. Sales figures of the company's steady growth and create jobs for nearly 600 officers and employees.
Besides, TrungThành also contribute to the social and charitable activities in the local with more practical activities and significance such as take care health free for children in kindergarten in the city ; giving Tet gifts to the poor and disadvantaged people; participate in volunteer activities across the country ...
In 2014 and many next years, TrungThành will continue to modern technology into production to continuously improve product quality, continue to strive to become one of the leading unit in the overall movement of Hanoi city.
The praise, honor businesses and entrepreneurs typical capital this year's event is very large, it was to encourage the spirit of business leaders and employees for their continued efforts play in the road ahead, contributing to employment, social security, given the capital Hanoi sustainable development in all aspects.
Quynh Trang