TrungThanh organized the Anniversary of 15th birthday and received certificate of merit from Prime Minister
On 11th Sep, 2010, in Dong Van Factory, Duy Tien, Ha Nam, TrungThanh solemnly celebrated the anniversary of 15thbirthday (01/08/1995 - 08/01/2010), marking the growth and development of a private enterprise as one of the first professional food processing business in the North.
Mr Phi Ngoc Chung, General Director of TrungThanh company said: "TrungThanh always pays special attention to improve product quality by applying science and technology in production processes. Protecting the rights and health of consumers is always the guideline for all activities of TrungThanh. TrungThanh will continue to provide consumers the nutritious and safe products in future. Besides, TrungThanh also commit to build a strong and clean economic organization, implementing economic and political tasks delegated by the Party, contributing to the development of the country.
In anniversary, TrungThanh honorably received 02 Certificates of Merit from Prime Minister Nguyen Tan Dung. One is for TrungThanh company for "Having had achievements in the work from 2007 to 2009 and contributed to build socialism and defend the country", one is for Mr Phi Ngoc Chung for "Having had achievements in the work from 2005 to 2009 and contributed to build socialism and defend the country".
TrungThanh Limited Company, which was established on 1st Aug, 1995, is the one specializing in processing agricultural food and fisheries. After 15 years, TrungThanh has had premises of a 300m2 headquater at No.2 Linh Nam, Hoang Mai, Ha Noi; a 40,000m2 factory in Dong Van Indutrial Zone, Ha Nam. With three large workshops equipped with adequate facilities, operated by nearly 300 workers, our products are produced by the technology combined traditional methods and the quality management system ISO 22000:2005.

In the past 15 years, TrungThanh has continuously launched products to every market segment in accordance with income of consumers, such as the high protein product for kids – Ngu Nhi; micronutrient supplementation fish sauce Ngu Ong in the project coordinated with the National Institute of Nutrition Vietnam; Golden Chili sauce with components made of 100% fresh peppers and breakthrough technologies for the production and packaging. TrungThanh is the first enterprise having deployed quality system in processing spice in Vietnam.

This anniversary is a milestone in the development stage of TrungThanh, is a recognization by the government agencies and the trust of consumers on a Vietnamese brands with traditional products. 15 years is the moment to looking back then continue to intergate to the world economy with a strong position.
Some picture from the anniversary:
Dong Van Factory was so colorful in the day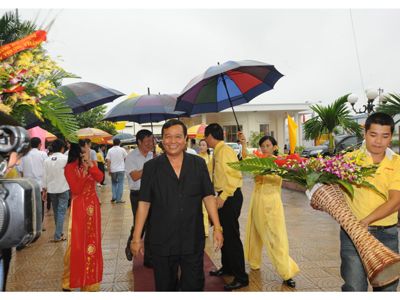 Despite of the rain, many visitors and guests came to congratulate TrungThanh
The charming PGs with beautiful smiles and the drum and dancing orchestra were greeting visitors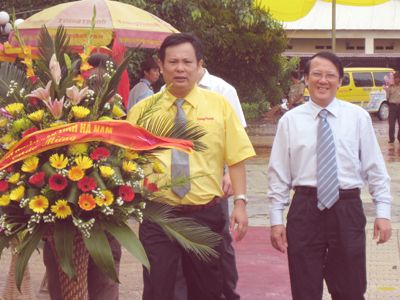 Mr Tran Xuan Loc – Chairman of People's Committee of Hanam, visited and congratulated TrungThanh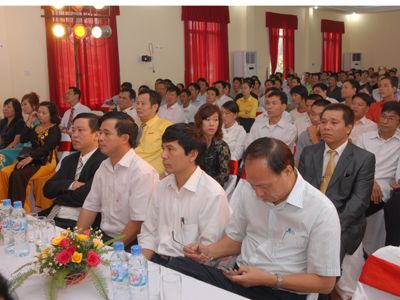 Almost 400 visitors came to the Anniversay "TrungThanh, 15 years to reach aspiration of 1000 years"

Opening the ceremony, TrungThanh's traditional song – "Deep in countryside" impressed all the guests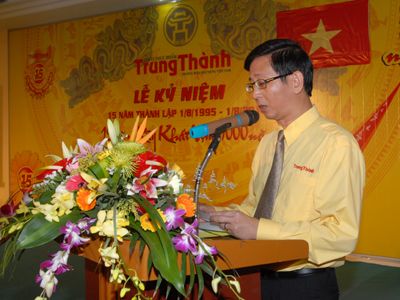 General Director – Mr Phi Ngoc Chung had a speech about the development of TrungThanh in 15 years

TrungThanh company and Mr Phi Ngoc Chung were receiving Certificates of Merit from Prime Minister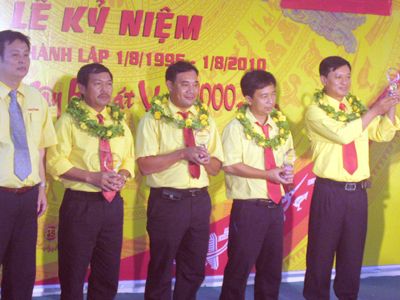 The Anniversary was also the occation to honor those staff who has been dedicating to TrungThanh
and the occation to presented grateful gifts to the distributors who has been coorperating with TrungThanh in 15 years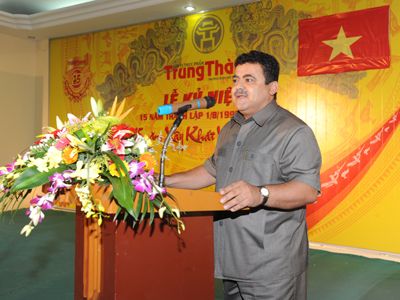 Ambassador of Palestine congratulated TrungThanh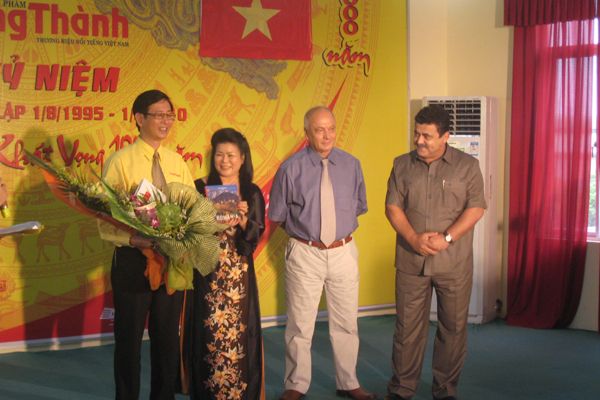 Ambassadors of Palestine and Rumani presented a gift to TrungThanh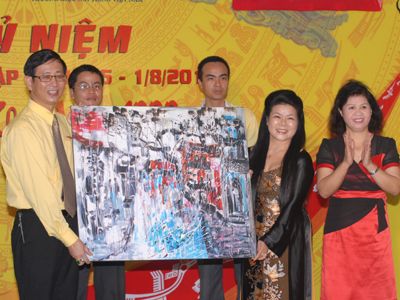 Ambassadors of Palestine and Rumani presented a gift to TrungThanh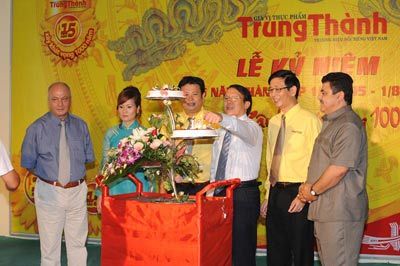 Chairman of People's Committee of Hanam, the ambassadors and the TrungThanh's Leadership were lighting the candles to celebrate 15th birthday of TrungThanh
P.V