TrungThành is honored in "Enterprise Night 2014"
On the evening of 25th Dec, Hanoi Small and Medium Enterprise Association (HASMEA) organized "Enterprise Night 2014" at Hanoi Theatre.
President of National Assembly Mr. Nguyen Sinh Hung awarded to honour the entrepreneurs and cooperation, which got successfully achievements and contributed massively to national economic versus social development. Besides, representatives of Hanoi People's Committee also attended the event.

Mr. Phi Ngoc Chung is honored to receive the Third-Class Labor Medal awarded by the President of Vietnam
At that night, TrungThành Co was honourly received two Third – Class Labor Medals by Chairman – General Director of TrungThành - Mr. Phi Ngoc Chung. Moreover, TrungThành also received a certificate of merit from Hanoi People's Committee due to excellent achievements and contributions toward country.

Mr. Phi Ngoc Chung claims that: "Within year 2014, although faced a lot of difficult challenges, TrungThành always attempted to be stabilize and developed business. Furthermore, we also not only tried to create job opportunities for labor, but also contributed to maintenance of the economic growth that helps solve problems of social insurance. Therefore, the acknowledgment of the Party, the State, and the City is the worthy bonus as well as the developing motivation for TrungThành in particular and the small and medium enterprises in general.
In the framework of the event, participants met representatives of the competent authorities, economic experts, typical entrepreneurs and prestige speakers, shared knowledge and experience through the seminar "Vietnam economic – expectation in 2015". The content of the seminar is: In the context that Vietnam is preparing to adhere to Trans-Pacific Strategic Economic Partnership Agreement (TPP), small and medium enterprises are facing a new opportunity. What are the advantages and challenges? What experience can enterprises learn from others? How will State go abreast with the business in new condition? Etc. The problem attracting the attention of the community of small and medium enterprises will be answered in the seminar of the event.
Also at the "Enterprise Night 2014", HASMEA launched emulate in 2015 with the slogan: "Business of Capital - Joint - Sustainable Development" to celebrate the 85th anniversary of the Communist Party of Vietnam".
Some photos of the "Enterprise Night 2014":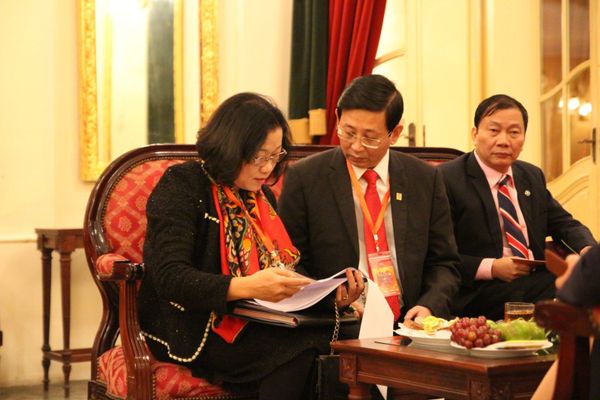 As the position of Permanent vice chairman of HASMEA, Mr. Phi Ngoc Chung discusses final completing works before the big event "Enterprise Night 2014"

Mr. Nguyen Sinh Hung congratulates Mr. Phi Ngoc Chung before the opening of event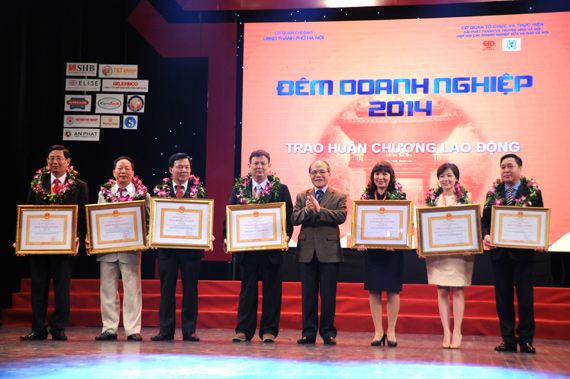 Mr. Phi Ngoc Chung (first from the left) and Mr. Phi Van Thanh (Fourth from the left) are honored to receive the Third-Class Labor Medal awarded by the President of Vietnam

Attending the "Enterprise Night 2014" is the presence of Financial Manager – Mrs. Phi Hai Yen (red jacket) and Chairman of Trade Union cum Director of Ho Chi Minh Branch – Mrs. Vu Thuy Nga (violet skirt)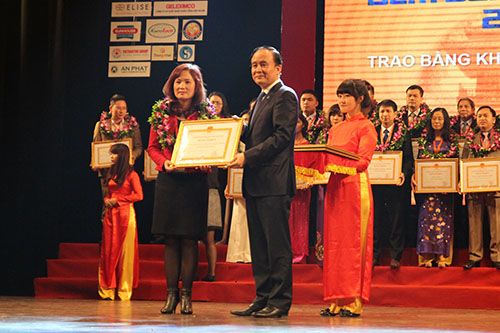 Mrs. Phi Hai Yen is honored to receive the certificate of merit of Hanoi People's Committee

Mrs. Vu Thuy Nga, one of the major backers for the "Enterprise Night 2014", receives a medal from Chairman of HASMEA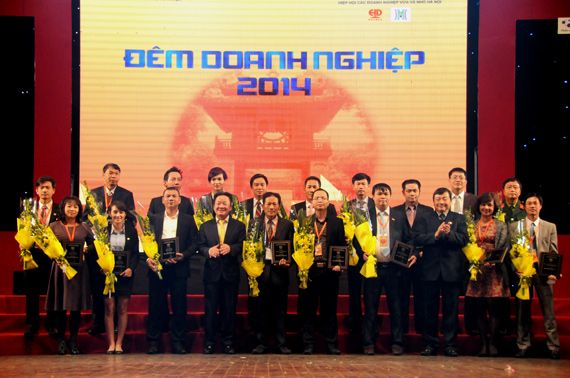 The acknowledgment of the Party, the State, and the City is the worthy bonus recorgnizing the contributions for economy, society and community of entrepreneurs, business
Quynh Trang