One year since General of Vietnam People's Army - Mr. Vo Nguyen Giap died: The unforgettable emotions
Although it has been a year since since a legendary man of Socialist Republic of Viet Nam - Mr. Vo Nguyen Giap died, the memories and images of thousands of people in his funeral are still fresh in our minds.
He is called as a "great person" with massive love and respectation from us. After spent his whole life to protect and maintain peaceful to the country, he left us with the magic miracles as well as an honorable lesson which are about solidarity, strength, and dependent on each other. The tears in that day were not only the grief, the pain of our country, but also the happiness tear of ethnic pride as once again in history we felt the power of humanity and solidarity burning in our veins.

The first anniversary of his funeral has just passed, and we, one more time truly regret, but would memorize forever and send the best wishes to our beloved person as the endless sunlight of Vietnam.

Let's take a look back at the photos of activities of TrungThành Youth Union in Mr. Vo Nguyen Giap's funeral one year ago:
TrungThành yellow umbrellas making the cool street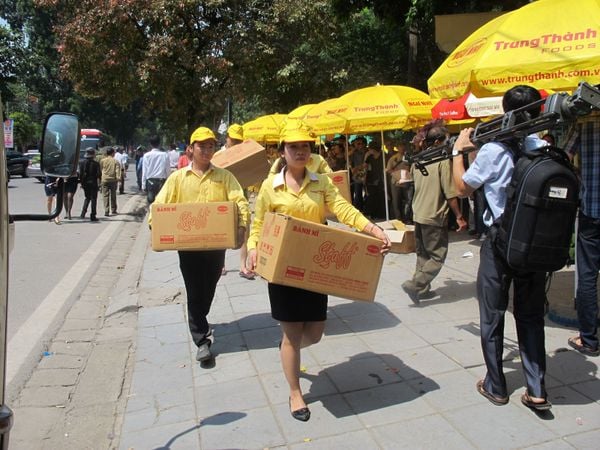 Thousands of free bread and drink prepared by TrungThành Foods
The flowers prepared and handed to the people attending the funeral of Mr. Vo Nguyen Giap
The flowers bringing the sincerity of TrungThành members
P.V